Hello everyone, as promised last time I will finally explain the dazzling yellow paint job belonging to one of the Harvard II aircraft, as well as the camouflaged Hawk aircraft. This is well overdue since the event these paint jobs were created for occurred over a month ago already. These paint jobs were to mark the 75th anniversary of the 400 series squadrons that were created to take in the huge number of pilots being trained through the British Commonwealth Air Training Plan (BCATP). The BCATPwas a plan that took place during the second world war and was developed to train the incredible number of pilots needed to fight in the war. Canada played a major role in this as Canada became the primary location for training, and a majority of Allied pilots trained during the war were trained in Canada. Portage-La-Prairie in fact was one of these air bases constructed to aid in pilot training, and the bathtub that students were dunked in after their first solo during training is the very same bath tub that is used today to dunk students as they complete PH I Primary Flight Training. It's remarkable to think that effectively every pilot in the RCAF (minus a few exceptions, but this is mostly true) received their first solo dunking in the same bathtub.
The yellow paint scheme is symbolic of the original Harvard trainer aircraft that were used for many years before the introduction of the Harvard II. The number 43 was selected to commemorate what became known as the "High Flight Harvard" flown by John Gillespie Magee. John Gillespie Magee was an RCAF pilot who famously wrote a poem entitled "High Flight" after a solo flight in a Spitfire on the 18th of August, 1941. This poem is well known among aviation enthusiasts, and beautifully captures the sensation of flight that causes people to pursue aviation with such passion. The number 43 aircraft was one of 12 Harvard aircraft he recorded in his logbook as having flown, but it is the only aircraft of which photographic evidence still exists.
Vintage Wings of Canada repainted a Harvard aircraft in 2008 with the High Flight Harvard paint scheme, and with 2016 being used to mark the 75th anniversary of many RCAF squadron's, painting a Harvard II in BCATP colors would draw a strong line between flight training during the war, and flight training in the present day. Vintage Wings of Canada has an excellent article with many more details and photos of the two High Flight Harvards, and is well worth a read here. I got an opportunity to fly the High Flight Harvard and although it is still just a Harvard II, there is something special about walking out to a gleaming yellow Harvard.
The camouflaged Hawk aircraft was also painted to celebrate the 75th anniversary of these squadrons, and is painted in the same paint scheme used on Lancaster bombers during the second world war.
In other news I'm now approaching the half-way point of course with only two flights left before my final clearhood test. It's been a really fun and challenging phase of course learning to do advanced aerobatics and max performance maneuvers. After these flights I'll also be wrapping up the formation phase of course with a couple four-ship formation flights, and then we'll be taking a couple of Harvard's for a weekend to complete a cross-country trip out to Vancouver Island and back.
It's been a fun and challenging course so far, be sure to stay tuned for all future updates!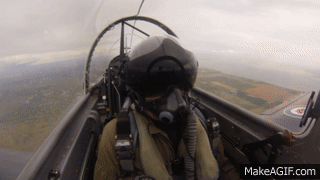 Vertical Roll in the Harvard