After an incredible weekend of taking the Harvard II out to BC, I'm back in Moose Jaw continuing our regularly scheduled flying training. We are now really on the home stretch for this course with maybe another month's worth of flying left. It will be nice to finish up course before the bad weather begins to hit us, and hopefully get some time off since we're on pace to finish a whole month earlier than scheduled. But I'll talk about that later, for today I'll mostly be talking about my cross country to BC supplemented with plenty of photos and videos, and at the very end I'll explain the curious tradition of burning pianos (feel free to jump ahead to that if the confusion of why someone would burn a piano is to overwhelming).
So, this cross country was a 3 night, 4 day affair with us departing on Friday, and returning on a Monday. The intent behind this cross country (and the next one in a few weeks) is to gain exposure to instrument flying in the "real world" by shooting approaches into airports we have never been and building our experience and confidence in shooting approaches somewhere other than Moose Jaw. This intent was perfectly realized during our cross country as we discovered many "gotcha's", differences, and tricks that we would never see in Moose Jaw. Even just the exposure to radio communications outside of Moose Jaw was beneficial since Moose Jaw radio procedures are so specific there is literally an official document that you could read as a script for every radio call you would ever make in Moose Jaw. With this cross country we saw how varied traffic control clearances could be, and how a single word could change the entire clearance. The route for this cross country was as follows:
Day 1

Moose Jaw to Swift Current for an approach, onto Lethbridge, AB for fuel
Lethbridge, AB to Vancouver, BC for the night

Day 2

Vancouver to Tofino for an approach, onto Port Hardy for lunch and gas
Port Hardy to Comox for an approach, onto Victoria for the night

Day 3

Victoria to Kamloops for an approach, onto Kelowna for lunch and gas
Kelowna direct to Saskatoon, SK for the night

Day 4

Early flight direct to Moose Jaw
The first half of day 1 enroute to Lethbridge,AB was relatively uneventful with good weather and clear skies for most of the flight. On our way to Lethbridge we climbed up to 22,000 ft and cruised for an hour before our descent into Lethbridge. The Harvard II doesn't have autopilot, but once trimmed out will basically stay perfectly straight and level requiring very little correction from the pilot to stay on course and at the right altitude. The Harvard II is also extremely well equipped for instrument flying with multiple radios, GPS, and the ability to have multiple radio aids tuned at once. The Harvard is a breeze compared to the Hawk aircraft for which instrument flying appeared to be an afterthought as it doesn't have GPS at all, only has one VHF radio, and can't receive distance information from a VOR (fancy name for radio aid) which means that Hawk pilots need to use two radio aids to get both distance and bearing information. Couple this with the fact that the Hawk travels twice as fast (or faster) than the Harvard and cross countries become a challenge.
The second half of Day 1 into Vancouver was also relatively straightforward with continued good weather over the Rockies and descent into Vancouver. We got a straight in approach from the east with us descending with an amazing view of the Fraser Valley and Vancouver on approach. Vancouver also has two parallel runways which they will use simultaneously due to the high volume of traffic coming in and out of the airport. We had requested the use of the south runway in order to be on the correct side of the airport for our refueling stop, but instead were cleared for the north runway resulting in us being required to taxi across the entirety of the airport. This proved to be easier than first anticipated as the taxi charts are quite daunting, but the controllers were very good and provided taxi instructions in chunks with each chunk being delivered just as we reached the end of our first chunk. Another good experience gained about navigating large confusing airports, and it was also neat taxiing around such enormous airliners on our way across the airport.
The Day 2 Vancouver Island tour was relatively uneventful save for the approach into Tofino which had low clouds and fog resulting in us only becoming visual with the runway in the final seconds of the approach. This was again a really good experience to see what "real" instrument flying is like when trying to land at an airport with poor weather. Port Hardy was a beautiful place right at the north tip of the island where we got some delicious fish and chips before flying back to Comox and Victoria.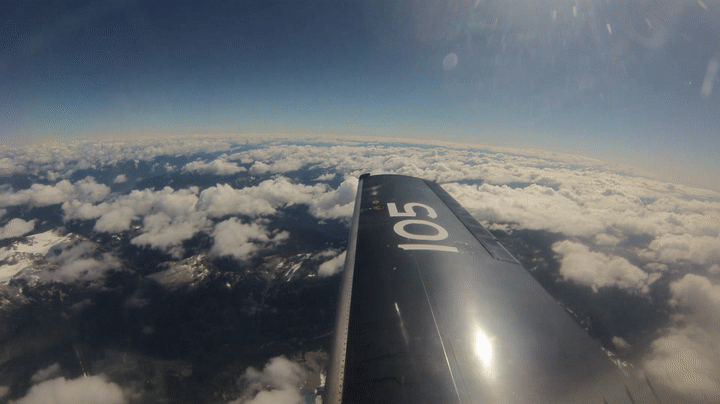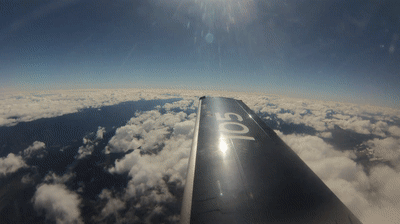 Just a couple timelapses over the mountains
Day 3 provided for an interesting change of plans as we made it to Kamloops and Kelowna as planned, but during lunch in Kelowna we realized the weather at our planned destinations (originally Castlegar, BC and Calgary, AB) were less than favorable, and instead flying direct to Saskatoon would be a better plan. The issue became that with such a long flight to Saskatoon we didn't have sufficient fuel to hold an alternate in case of weather. There are strict rules that dictate when an alternate is and is not required, and the rule we were running into was a requirement to have good forecast weather for the entire flight plus an hour after scheduled arrival. We determined that if we left within the next 30 minutes we could satisfy that requirement, but any later and the forecast weather in that extra hour after landing would require an alternate. The result was a very quick subway sandwich for lunch, and jumping into the airplane and climbing straight to 27,000 ft to conserve fuel on the way to Saskatoon. The Harvard II max altitude is 31,000 ft and 27,000 was the highest I had every flown it which although was effectively no different than flying at 22,000 ft, was still neat. One key difference however, was the freezing temperatures we found at that altitude. With temperature changing at 2 degrees per thousand feet, an extra 5,000 ft of altitude can make a big difference. Even with the pressurized cockpit and the heat on full, it got pretty chilly for the two hour cruise to Saskatoon. With close monitoring of our fuel on departure we satisfied ourselves that we would make Saskatoon with fuel to spare. Yet again, this was a valuable experience as we would never ever have any kind of situation in Moose Jaw where we would end up tight on fuel. This fuel planning and monitoring on the go was a good experience to have early as once I begin flying Jet aircraft such as the Hawk and F18 gas becomes a huge consideration as you burn thousands of pounds of fuel per hour.
Of course the final day of our trip with a short hop to Moose Jaw we encountered the worst weather of the weekend with low overcast ceilings, rain, and wind in Moose Jaw. We conducted one approach in Moose Jaw but couldn't land due to winds out of limits with a wet runway, and were considering diverting to Regina when the winds slackened off just enough to allow us to shoot another approach for landing. Thankfully the winds held off for the ten minutes we needed and we were able to land in Moose Jaw. All in all it was an incredibly busy and exhausting trip, but thoroughly enjoyable and extremely valuable in terms of training.
After that lengthy post about my cross country, I'll try to keep this section relatively brief while explaining the significance of the burning piano pictured above. Piano burning in the RCAF is a tradition that I knew existed, but until this weekend had not witnessed. There are numerous stories about how this became a tradition, with virtually none having any concrete historical evidence. I was originally told that pilots in the second world war were required to take piano lessons as a way to enhance their dexterity as well as their level of culture, and like any small child forced to take lessons on an instrument they disliked, they grew to resent pianos and thus would take to burning one at mess dinners or other celebratory events. Another story surrounds a pilot in the second world war who would play the piano for his comrades at the mess, and when he was killed in battle his comrades decided that if he couldn't play the piano, nobody could and burned it in his honor. There are numerous stories that you can turn up with a quick google search, but this piano burning was to honor the fallen during the Battle of Britain which is being commemorated this weekend in Moose Jaw.

I hope you enjoyed this incredibly lengthy post, and hope you share with those who might find it interesting! If you want to keep up with all my posts, be sure to subscribe to my email list! As always, thanks for reading and stay tuned for next time!