This weekend is the first weekend of September, and lots of students around the country are heading back to school on Tuesday. For me, there's no real change of pace, training continues just as it has all summer. But! September does mark the end of my first year in Moose Jaw, and a full year of flying training. It's hard to believe that it has in fact been a full year and that the entirety of this year has been spent solely focused on flying. I've been learning to fly for a long time getting my glider and private pilots license with cadets at age 16 and 17 (click here to read about that), and starting flying training with the military in 2014, but in every case the training was only a few weeks or at most a couple months at a time. This year is the first year where the entirety of my focus has been on flying, and this caused a revelation that took form in the thought "Oh right, this is my career". It seems a bit late to have this revelation now seeing as I've now been in the military for 5 years and when I signed up it was for a 12 year commitment (read this post if you want to see what a military pilot contract looks like), but these past 5 years have been spent mostly on attaining my degree and all sorts of military training with flying taking up only a small portion of it. This year is the first year that every working day has been spent on actively doing my job, and after 5 years of working towards doing my job, that's a really satisfying feeling. That feeling was enhanced further this week as I completed my second formation solo, and two four-ship formation flights which really drove home how far I've come since arriving in Moose Jaw one year ago.
The formation solo took place first thing in the morning which provided for really still air and a gorgeous sunrise reflecting off the clouds and the water. Just like my first formation solo there were a few extra nerves as I was acutely aware of the empty back seat and the proximity to the other aircraft, but despite this I was able to relax enough to enjoy the flight and the view.
The four-ship formation flights were very exciting and quite intense as there are now three aircraft to keep track of and maintain formation with. I was exposed to completely new formations such as the Box formation where the four aircraft form a diamond shape off of the lead aircraft, as well as new maneuvers such as a Vic takeoff, the Gear Up Low Approach (GULAP) and the four-ship break for the closed pattern (You can see all of these below in the GIF's). These trips were very successful and enjoyable and all of us left with an even greater level of confidence in our ability to fly the Harvard II aircraft. Besides the visually exciting close formation maneuvers we also learned a couple tactical formations for moving four aircraft in a manner that provides tactical advantage. One example of this was the Wall formation where all four aircraft would be aligned line-abreast but with 4000 ft of spacing between each aircraft. This means that the distance between the two aircraft on either side of the formation would be over 12000 ft! In a real world situation with fighter aircraft this spacing would be increased to several miles. This formation would allow for each aircraft to have good visibility behind the others (to watch for enemy aircraft in a combat situation), while still maintaining maneuverability of the formation. Another real-world application of this would be to bring a "wall of radar" as fighter aircraft could use their onboard radar to scan the sky in front of them, and with multiple aircraft lined abreast the formation could scan a huge swath of sky.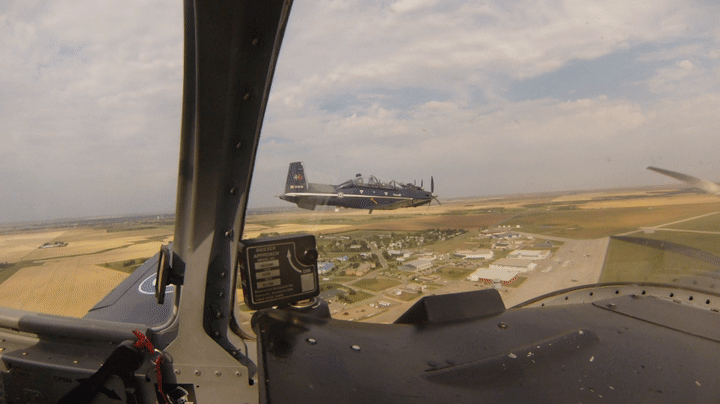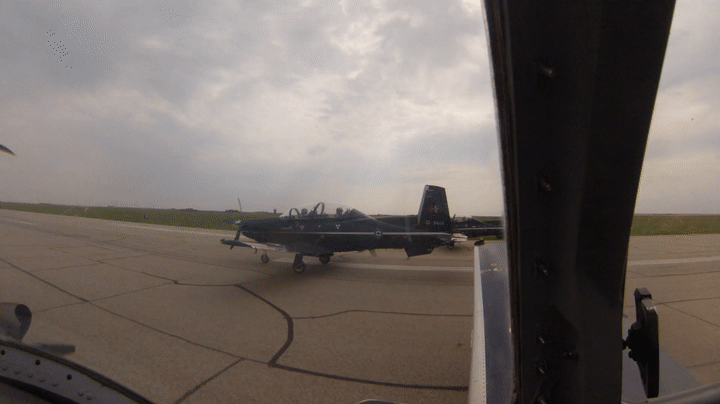 Oh, and did I mention I finished my Final Clearhood Test on Tuesday ahead of these exciting formation flights? Ya, it's been a busy week.
All in all this was a very exciting week and served well to mark the end of my first year of flying training. I have my final formation test coming up on Tuesday, and upon completion of that test I'll be officially halfway through Phase III. On Friday I leave for my Canadian cross country where we'll be flying to Lethbridge,AB and onto Vancouver on Friday, and then around Vancouver Island to Port Hardy, Tofino, Comox, and Victoria on Saturday, working back east on Sunday going through Kelowna, Kamloops, Crankbrook and Calgary, and finally returning to Moose Jaw on the Monday. That will be a very busy and very exciting cross country, so watch for a post upon my return!